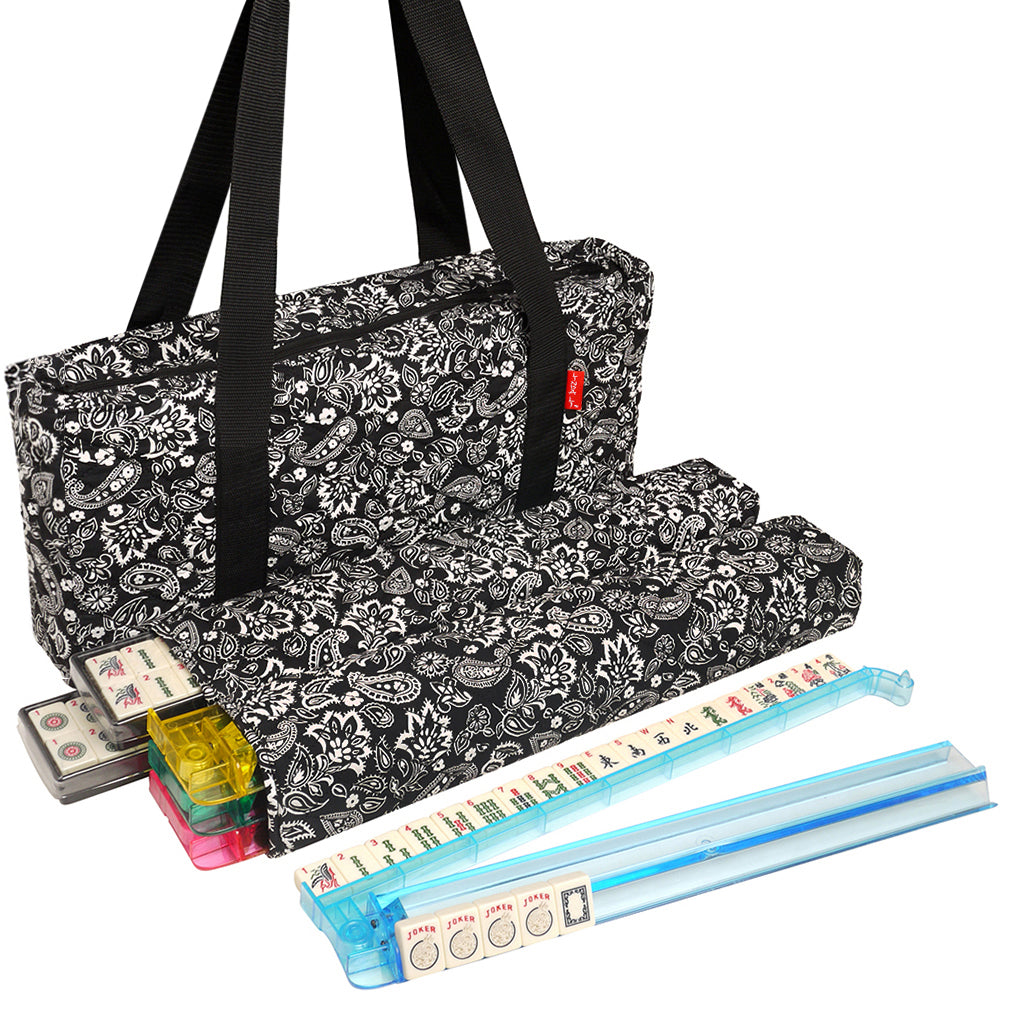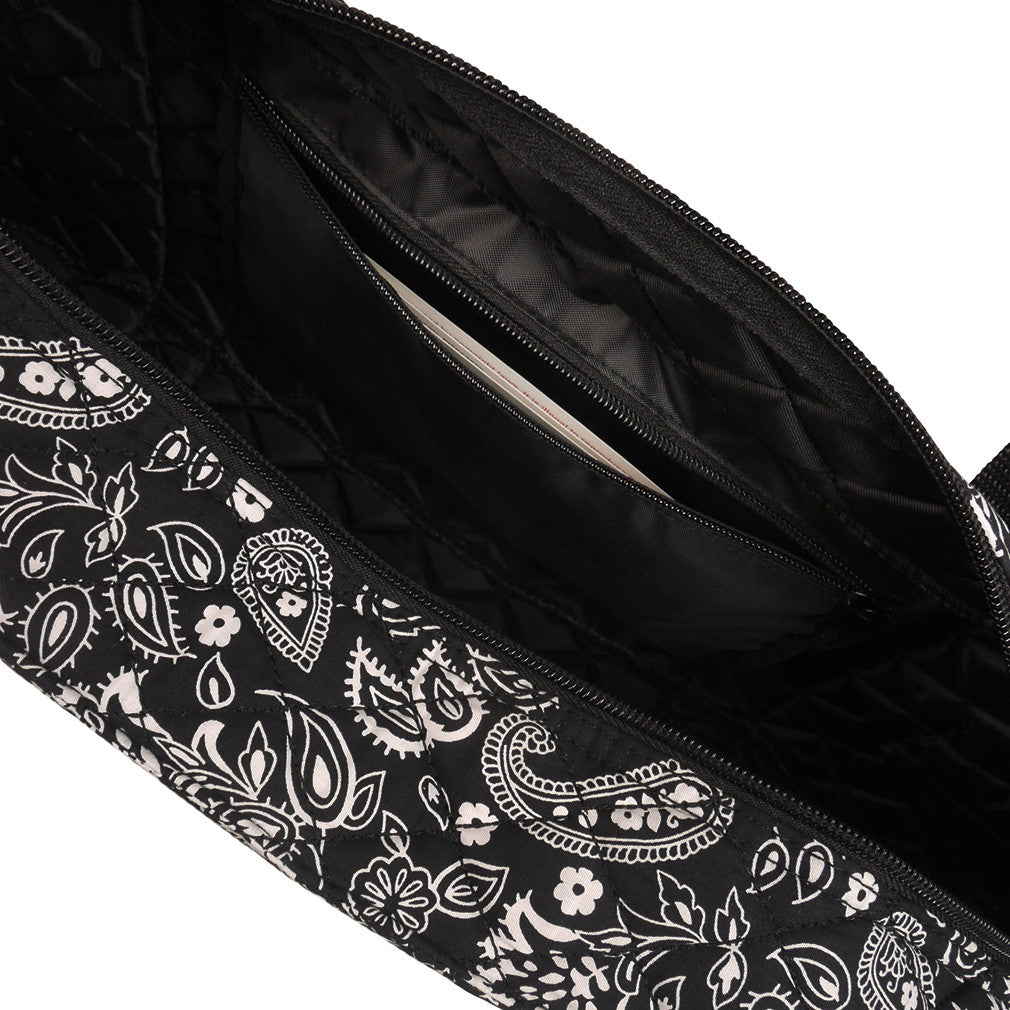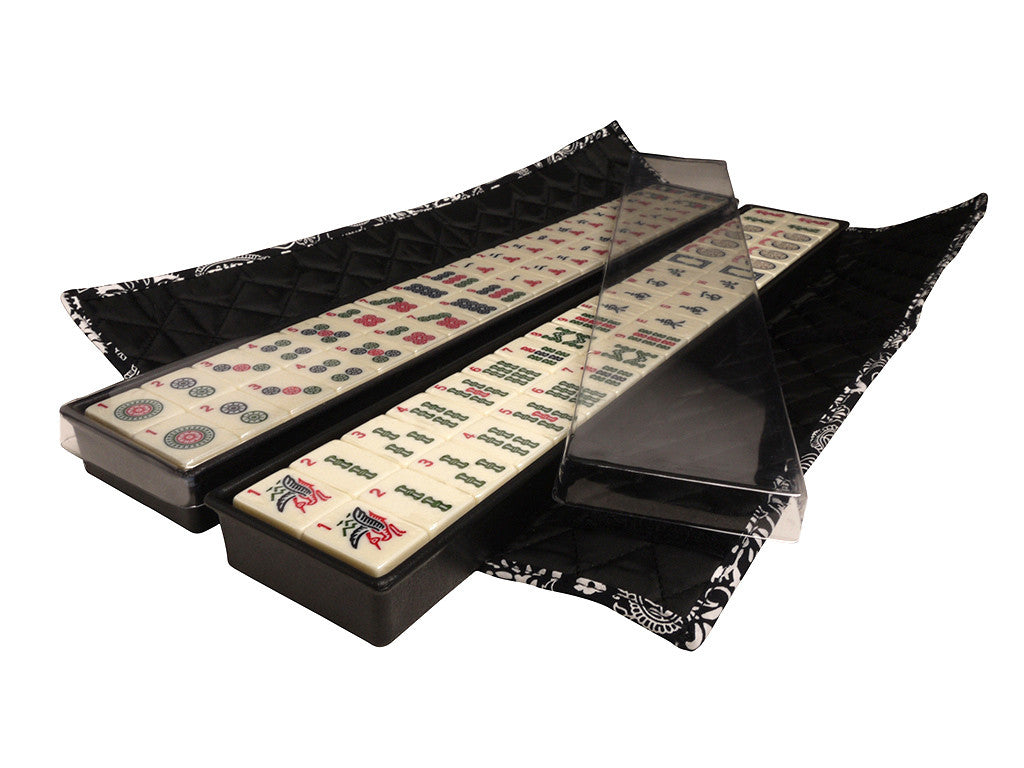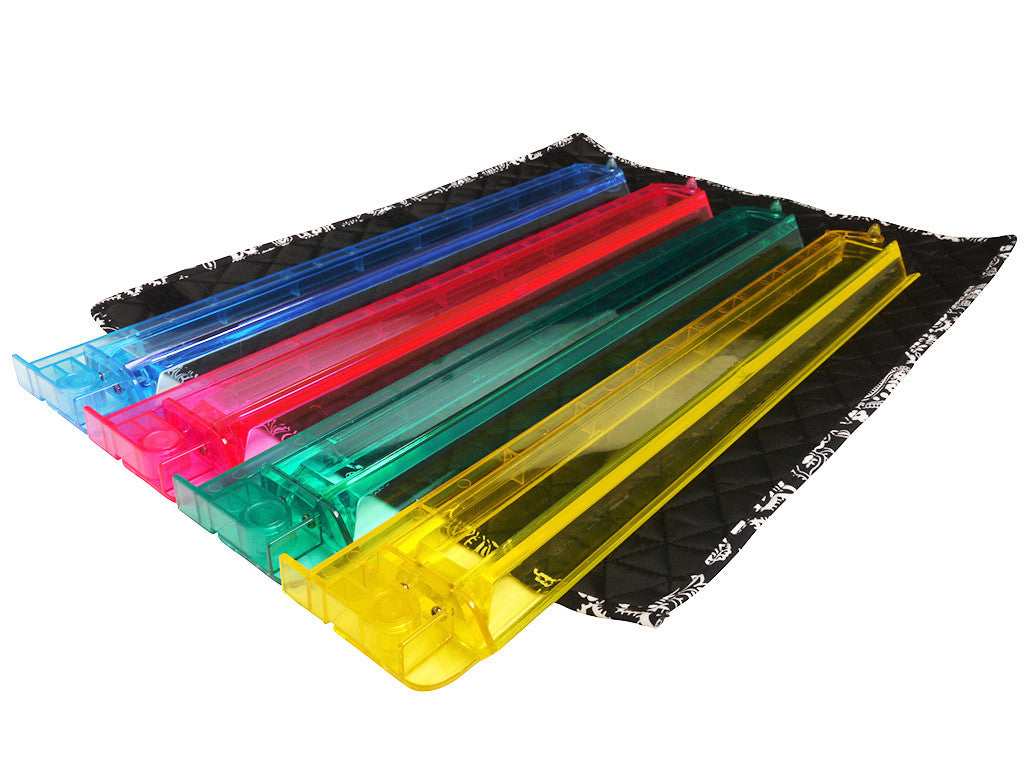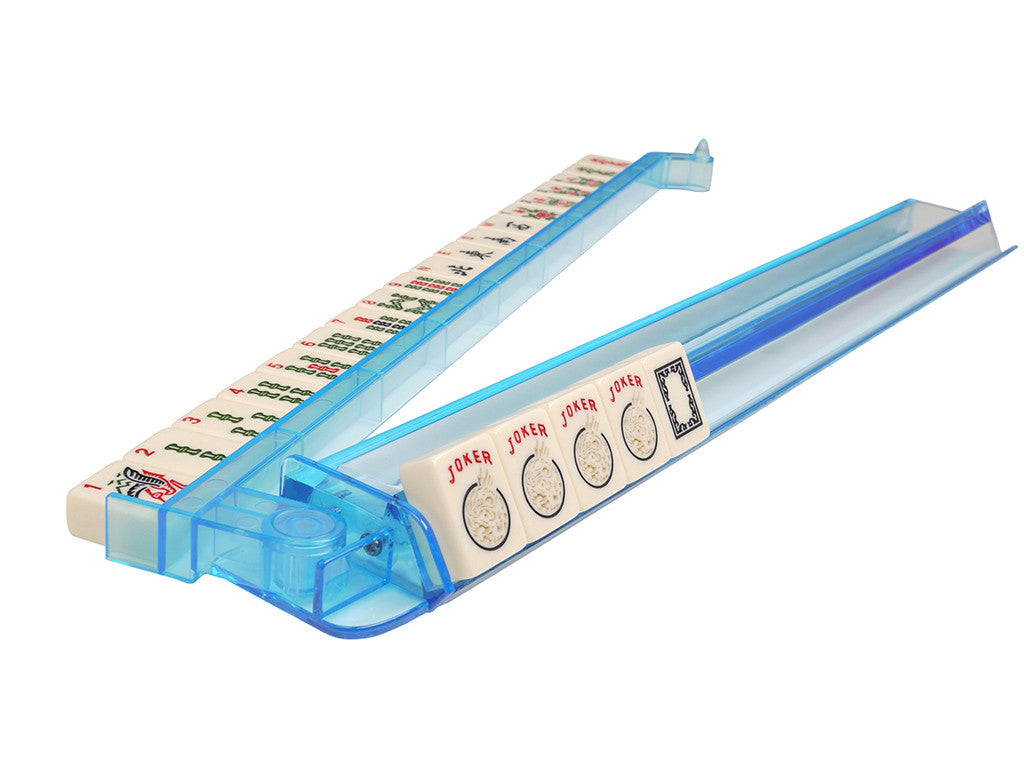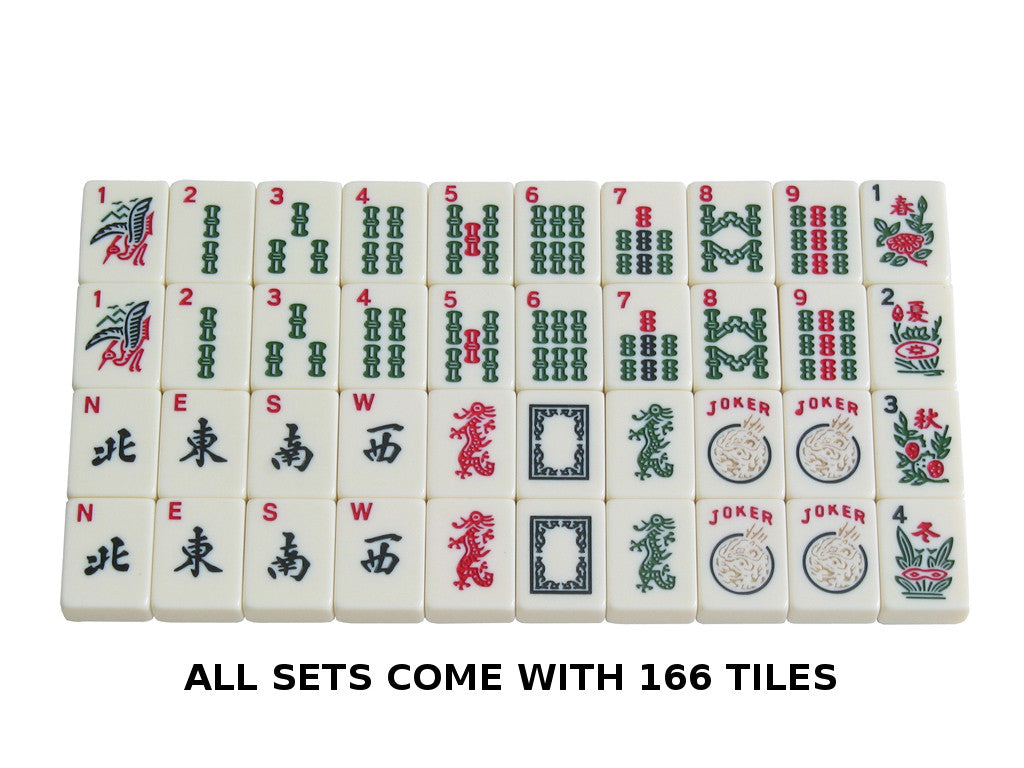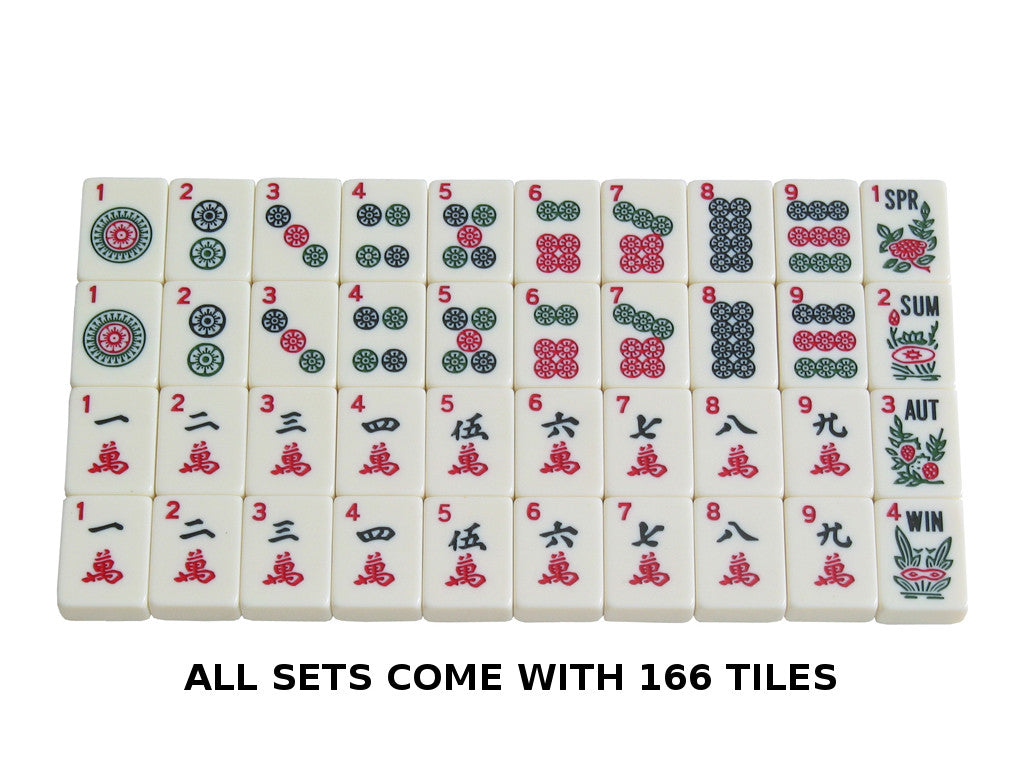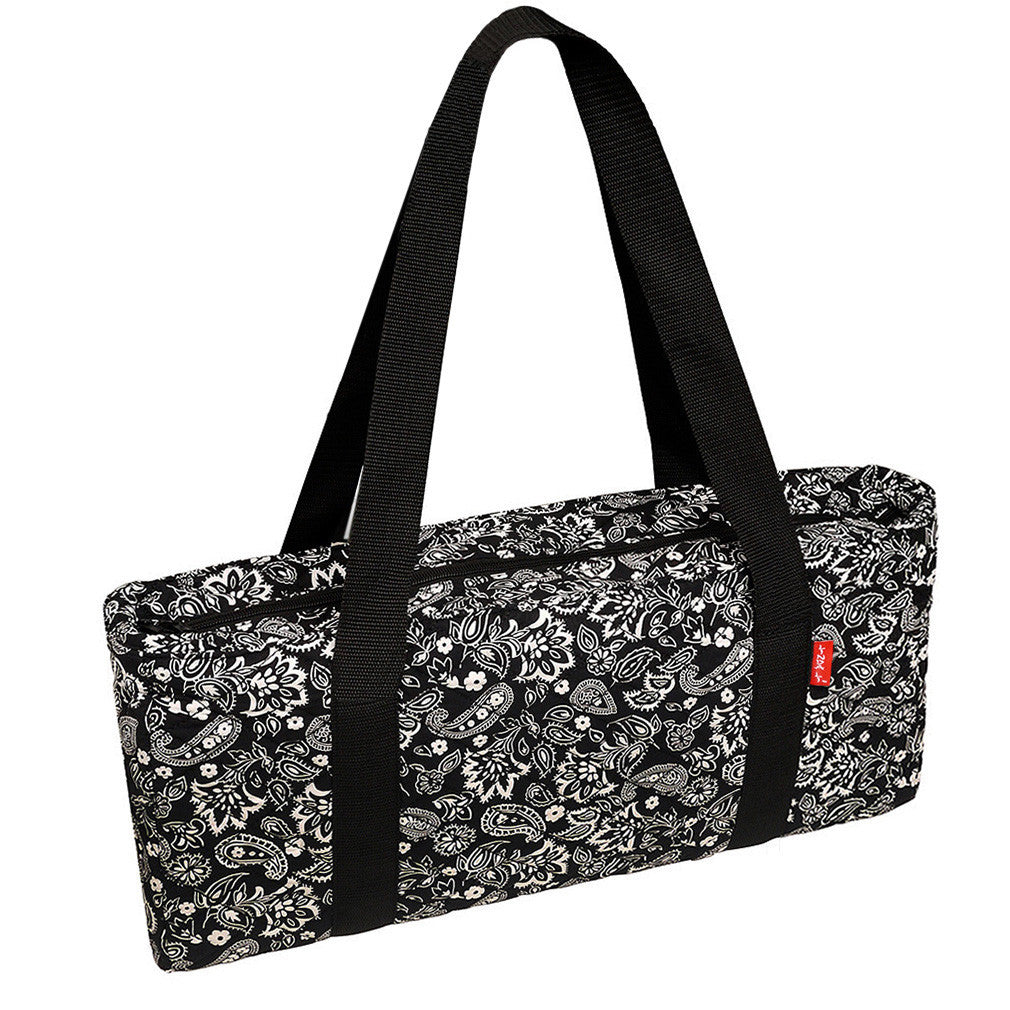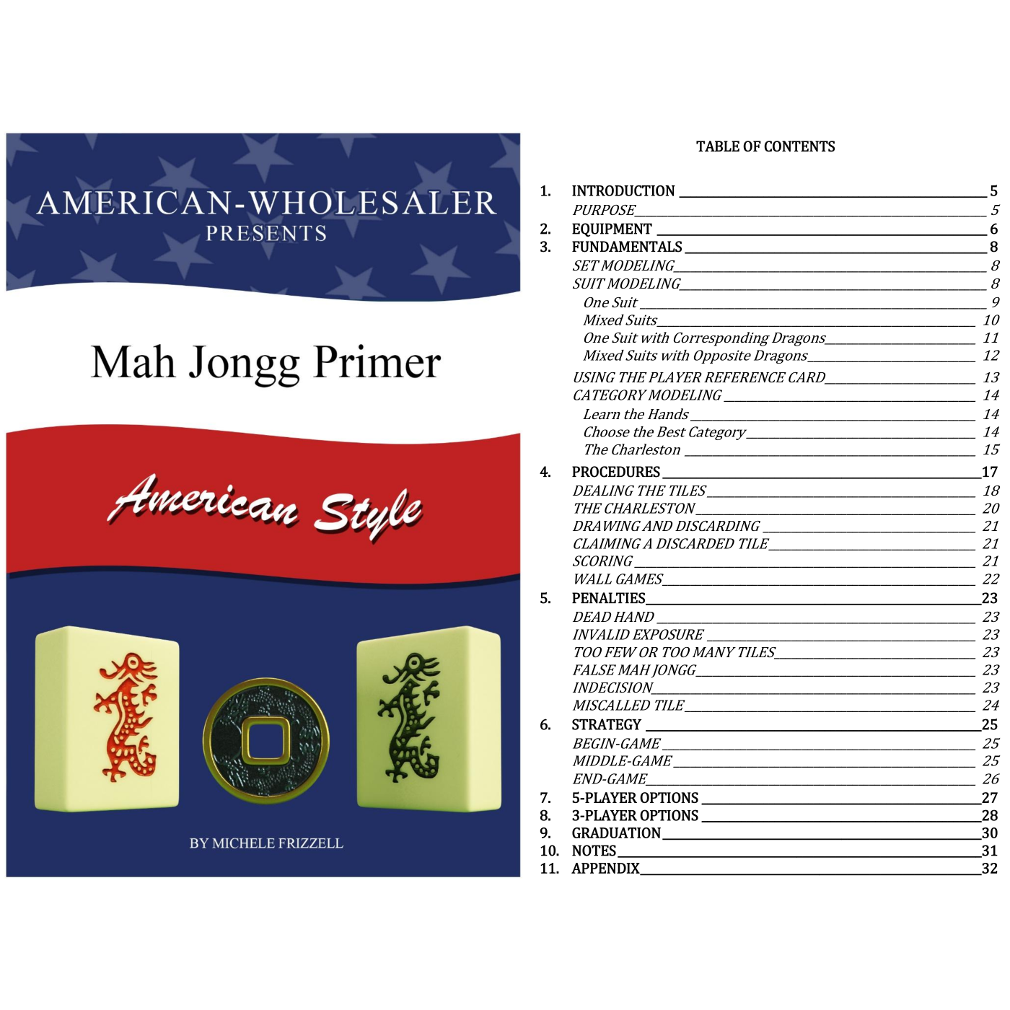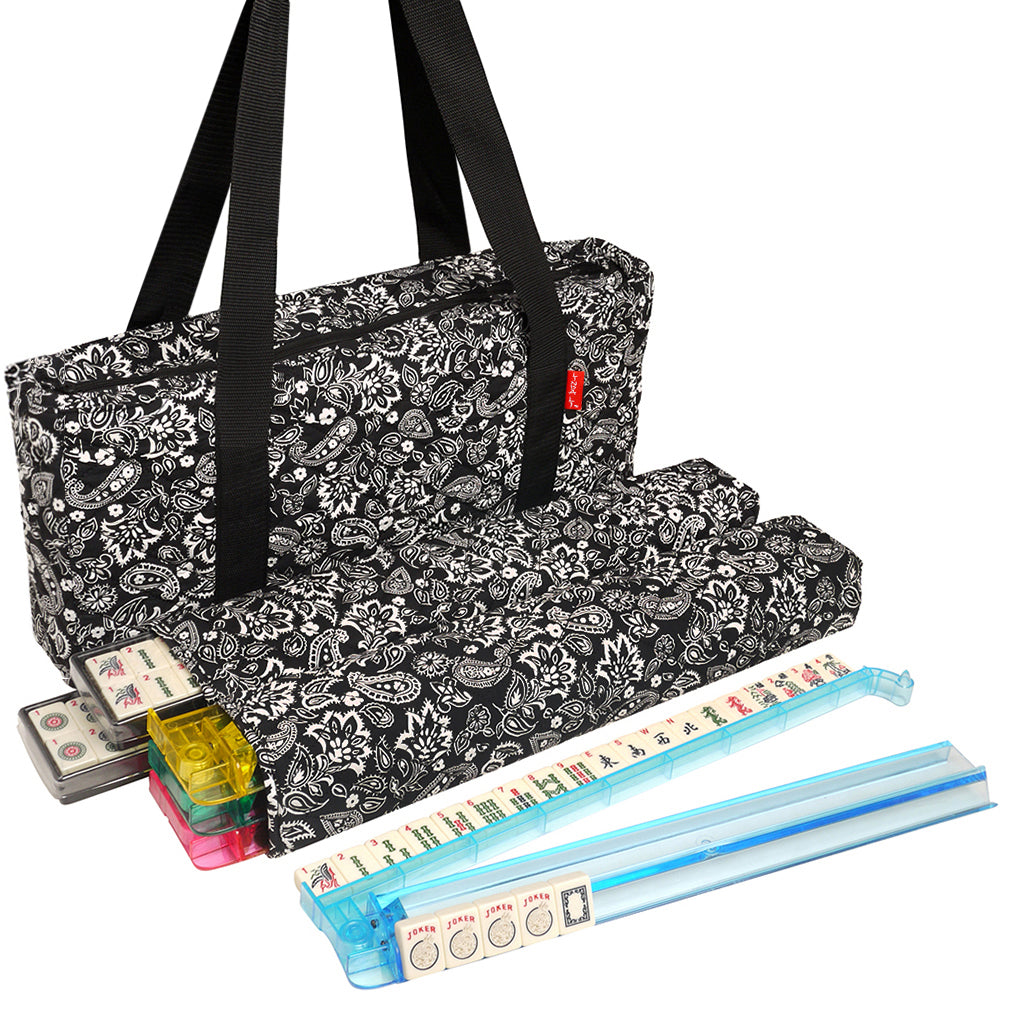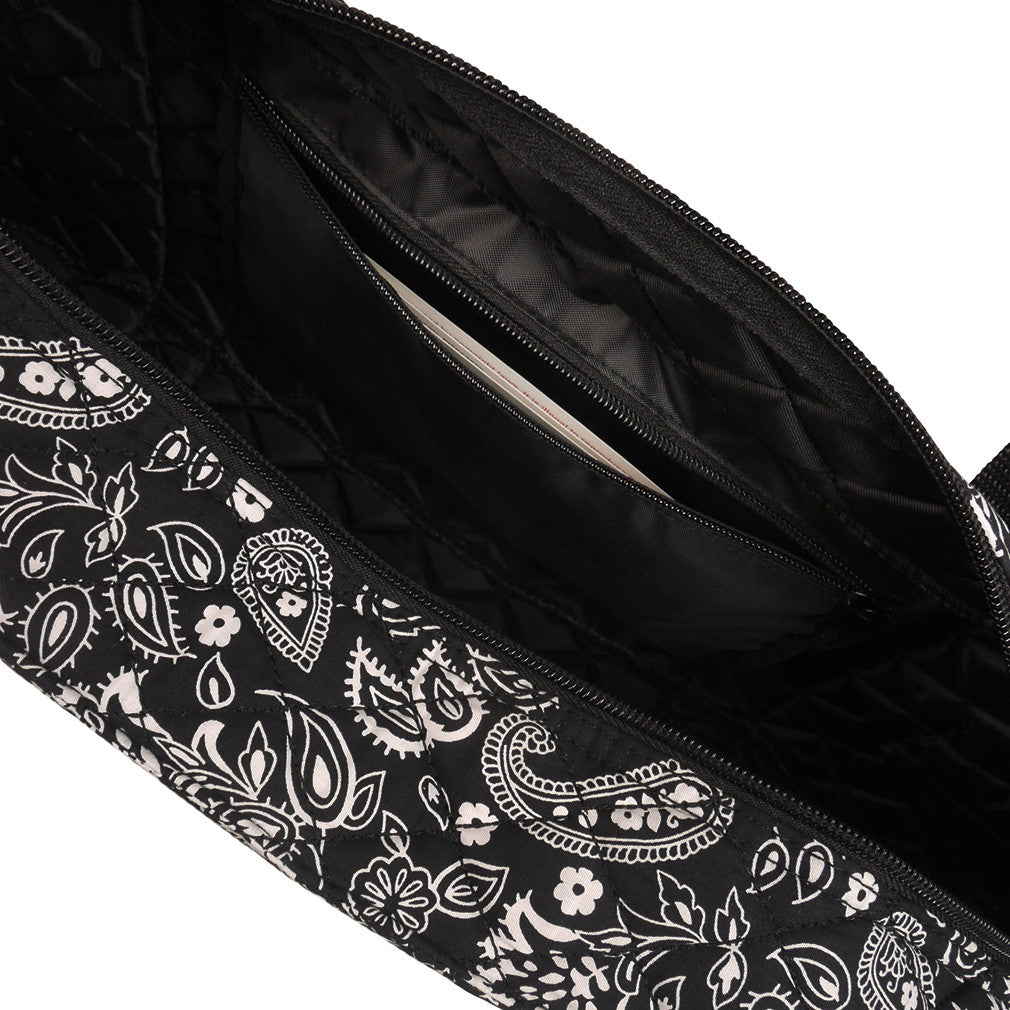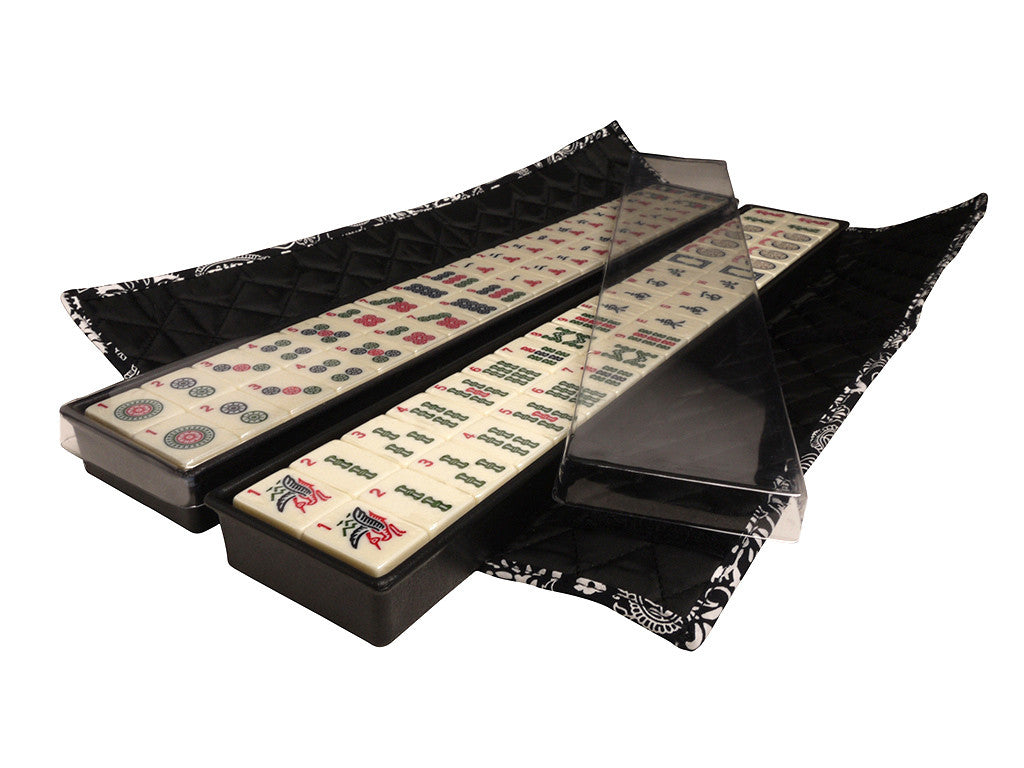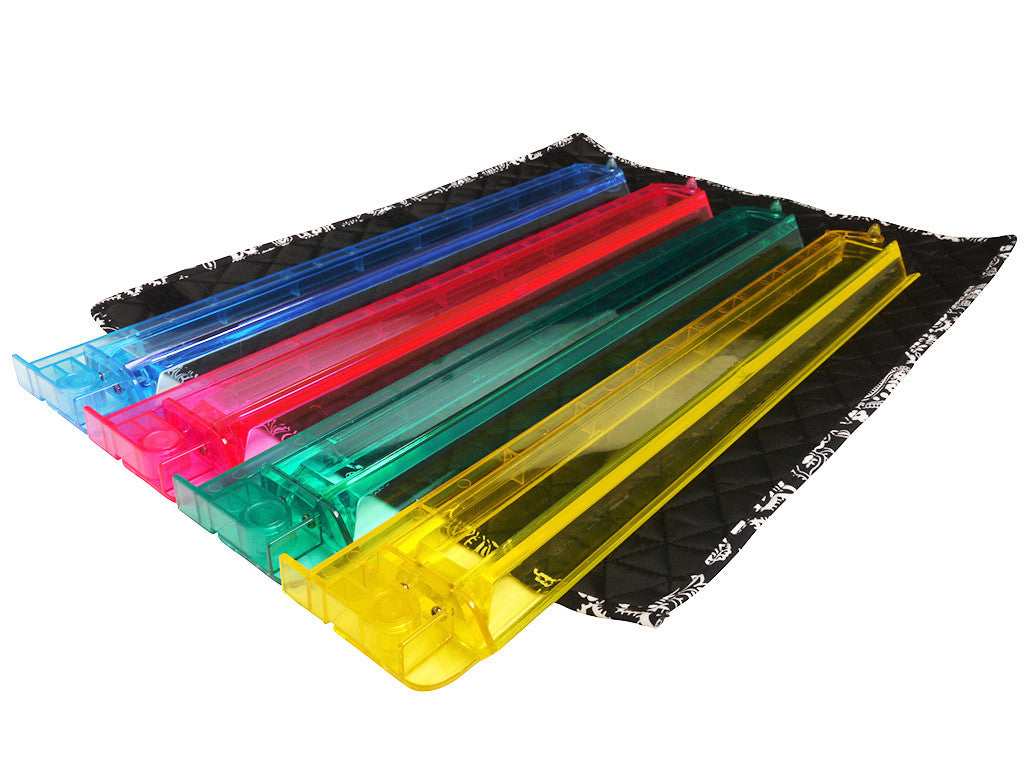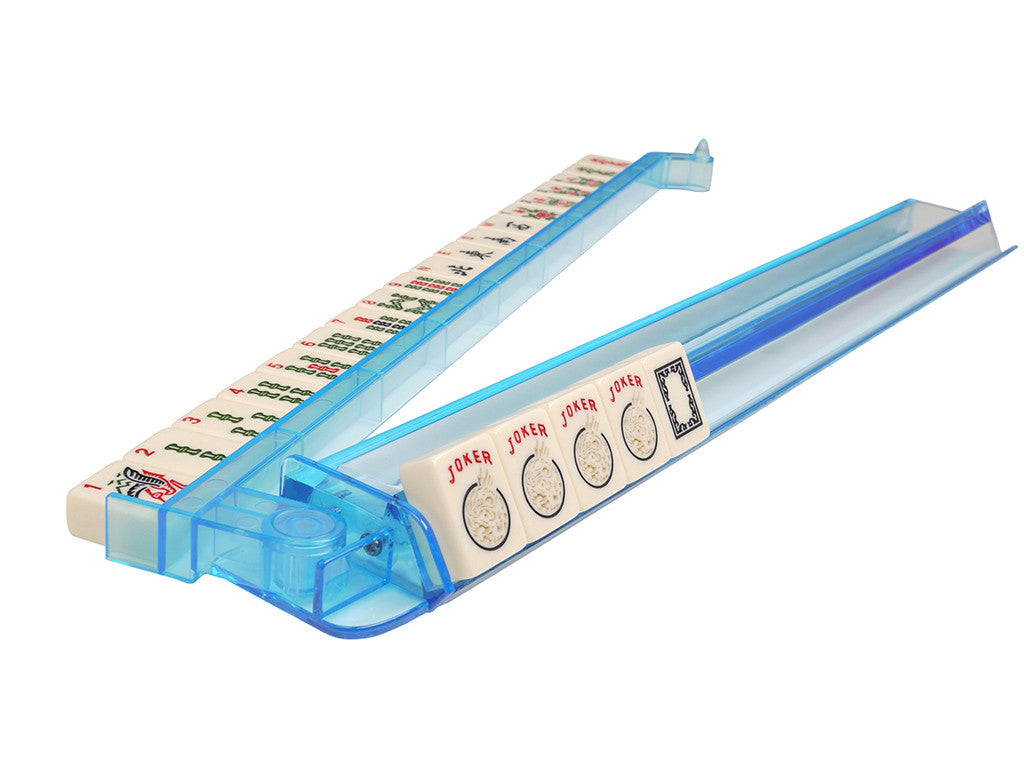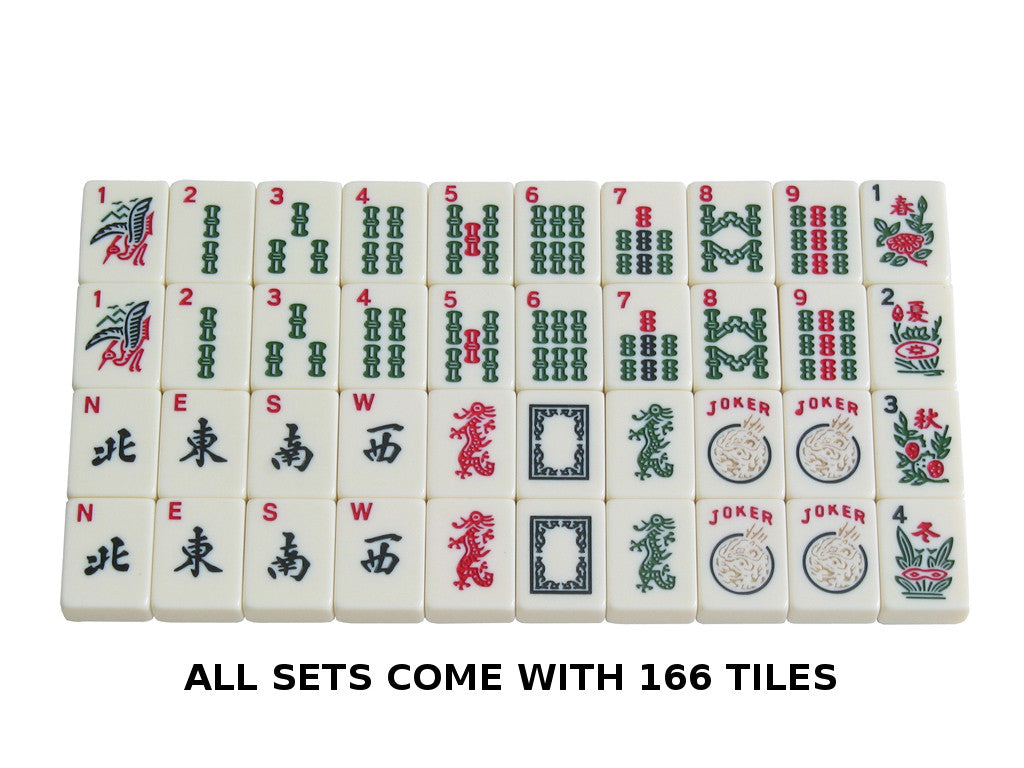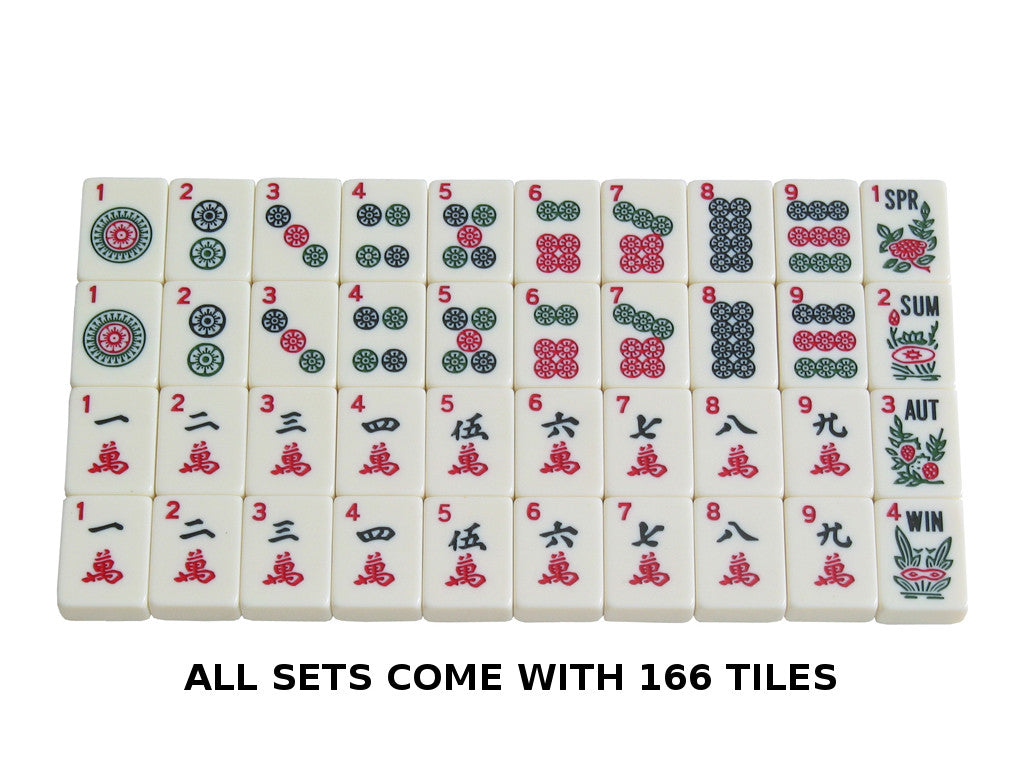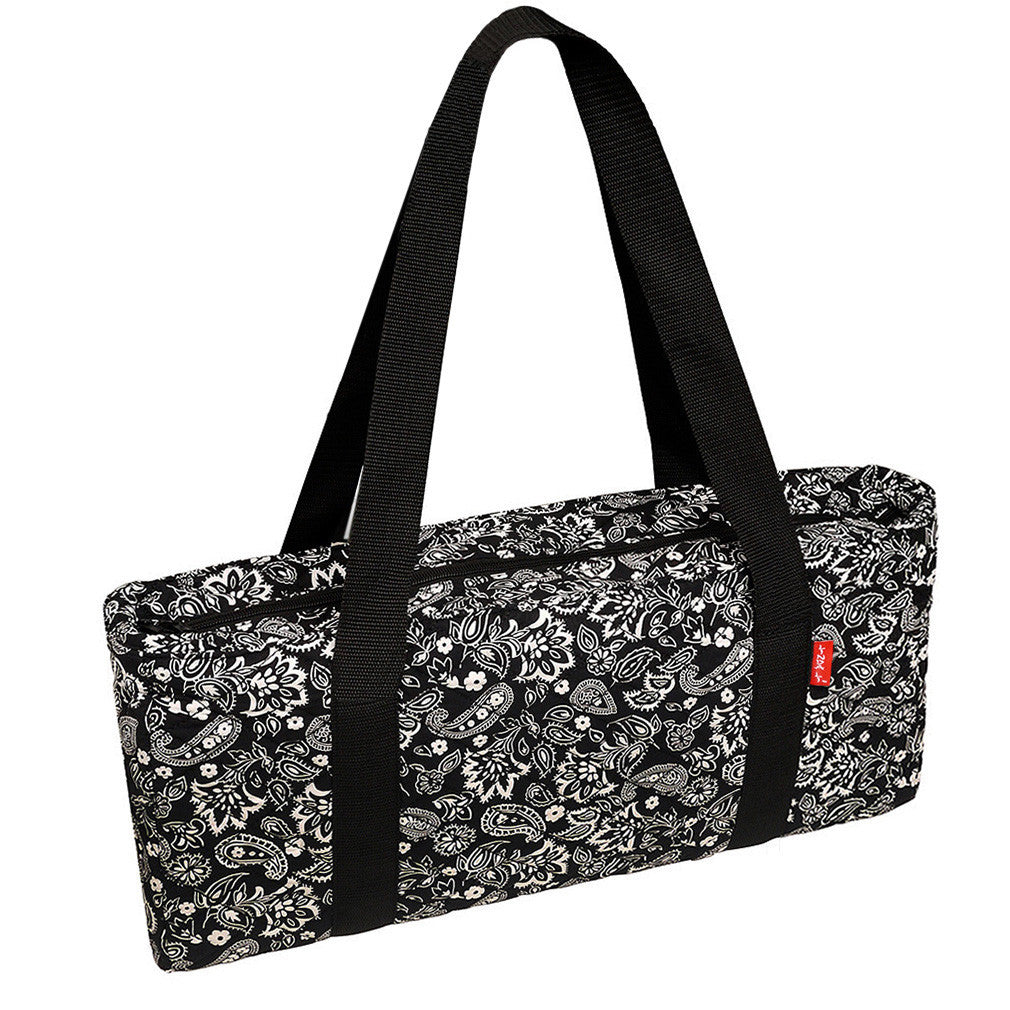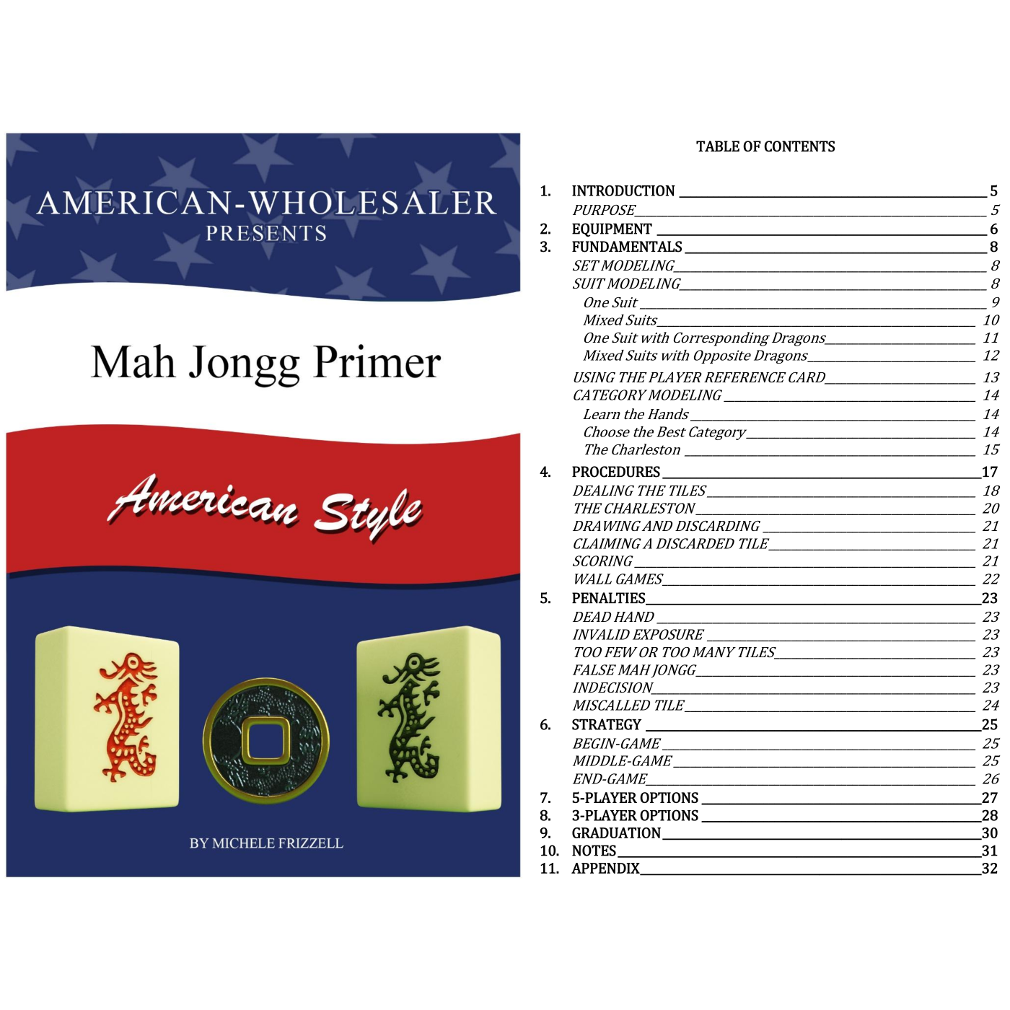 On Sale
Amerikaanse Mah Jongg Set door Linda Li ™ met ivoor tegels en moderne pushers - Zwarte Paisley Zachte Zak
Mooi, lichtgewicht en stijlvol zachtzijdig gewatteerd hoesje van Linda Li ™, met handige schouderriemjes en handig in rits
Tegels zijn ivoorkleur, volledig gegraveerd, mooi handgeschilderd, en gemaakt van duurzame melamine
166 premium tegels: 36 punten, 36 bommen, 36 kraken, 12 draken, 16 winden, 16 bloemen, 10 jokers en 4 lege onderdelen, elke tegel meten 1-3 / 16 "lang x 7/8" breed x 1/2 "dik (30mm x 23mm x 13mm)
Bevat 4 all-in-one pusher- en tegelrekcombo, zo makkelijk te gebruiken en zo makkelijk weg te zetten na het spelen. Elke set bestaat uit 3 grote dobbelstenen (5/8 "maat), 100 geld chips en bettor
Ook opgenomen: "Mah Jongg Primer, American Style" van Michele Frizzell, compleet met 3D-kleurenafbeeldingen om u te helpen het spel te beheersen of regels en strategie op te sporen
Deze stijlvolle, hoge kwaliteit Amerikaanse Mah Jongg-set gemaakt door Linda Li ™ wordt volledig uitgerust in een prachtige zachte draagtas met elegant quilted design en luxe zwarte paisley print.
De zachtzijdige tas is ultra lichtgewicht, met een knappe tweerichtings rits voor een gemakkelijke open en nauwe functionaliteit, een handige binnenzak met rits en 2 stevige schouderriemjes, waardoor het erg handig is om rond te dragen.
De set bevat 166 ivoor gekleurde tegels, allemaal volledig gegraveerd, en mooi handgeschilderd. Gemaakt van melamine, ze zijn zwaar en krasbestendig. Dit zijn de mooiste Bams and Dots die u vindt.
De mahjong tegels breken als volgt uit:
36 punten, 36 bommen, 36 kraken, 12 draken, 16 winden, 16 bloemen, 10 jokers en 4 lege onderdelen. Tegels meet 1-3 / 16 "lang x 7/8" breed x 1/2 "dik (30mm x23mm x13mm)
De 2 tegelbakken bevatten 80 tegels, en er zijn 6 extra tegels inbegrepen (2 Jokers, 4 Blanks). Elke tegelbak komt met een heldere kunststof deksel om uw tegels veilig te houden in de bakken tijdens het transport. De tegelbakken zijn verder beveiligd door een bijpassende quilted wrapper met klittenbandsloten.
De nieuwe all-in-one pusher en tegelrek is een briesje om te gebruiken en heel makkelijk weg te zetten na het spelen. Een tweede bijpassende quilted wrapper zorgt ervoor dat je all-in-one pushers georganiseerd en beschermd wordt, terwijl je verpakt bent.
About Linda Li

Linda Li's American Mahjong: A Touch of Luxury
Discover Linda Li mahjong sets, known for their unique blend of tradition and modern style. Linda Li is celebrated for distinctive and feminine designs in the world of mahjong. If you're in search of high-quality American mahjong sets that not only enhance your gameplay but also match your personal style, you'll find them in the Linda Li collection.
Stylish Mahjong Bags: Linda Li has gained fame for one-of-a-kind mahjong bags, meticulously crafted from premium cotton with quilted designs and a versatile color palette that effortlessly marries fashion and functionality. Designed with meticulous attention to detail, these bags serve as ideal companions for your mahjong adventures. They offer a diverse range of patterns and colors to cater to a wide array of preferences, ensuring there's a style to match everyone's taste.
The lightweight, soft bags come equipped with two sturdy shoulder straps for comfortable carrying, making it easy to transport your mahjong set with ease. Whether you lean towards a classic or modern look, the Linda Li collection has you covered.
Complete Set for Your Enjoyment: Every Linda Li Mahjong Set is thoughtfully curated to provide you with a comprehensive gaming experience. Each set includes 166 tiles, racks, pusher arms, chips, dice, a bettor, and a rule book. With all the essentials at your fingertips, you can fully immerse yourself in the captivating world of mahjong.
Best-Selling Blue Paisley Mahjong Set: A standout in the Linda Li collection is the Blue Paisley Mahjong Set, which earned its place as one of the best-selling mahjong sets of 2022. This set is lauded for its stylish quilted design and high-quality components. It arrives packaged in a soft-sided carrying case adorned with a luxurious blue paisley print. The inclusion of a two-way zipper and convenient shoulder straps ensures effortless transportation.
Artisan Collection: For those seeking a touch of luxury in their mahjong sets, Linda Li presents the Artisan Collection. These sets feature enhanced-size tiles meticulously laser-cut with intricate designs, including the captivating butterfly four seasons motif. Each tile is a masterpiece in itself, adding an extra layer of sophistication to your mahjong gatherings.
In summary, Linda Li Mahjong Sets offer a blend of tradition and modern elegance. Known for their quality and style, they are the choice of discerning mahjong enthusiasts. Elevate your gaming experience and add sophistication to your gatherings with Linda Li Mahjong Sets.